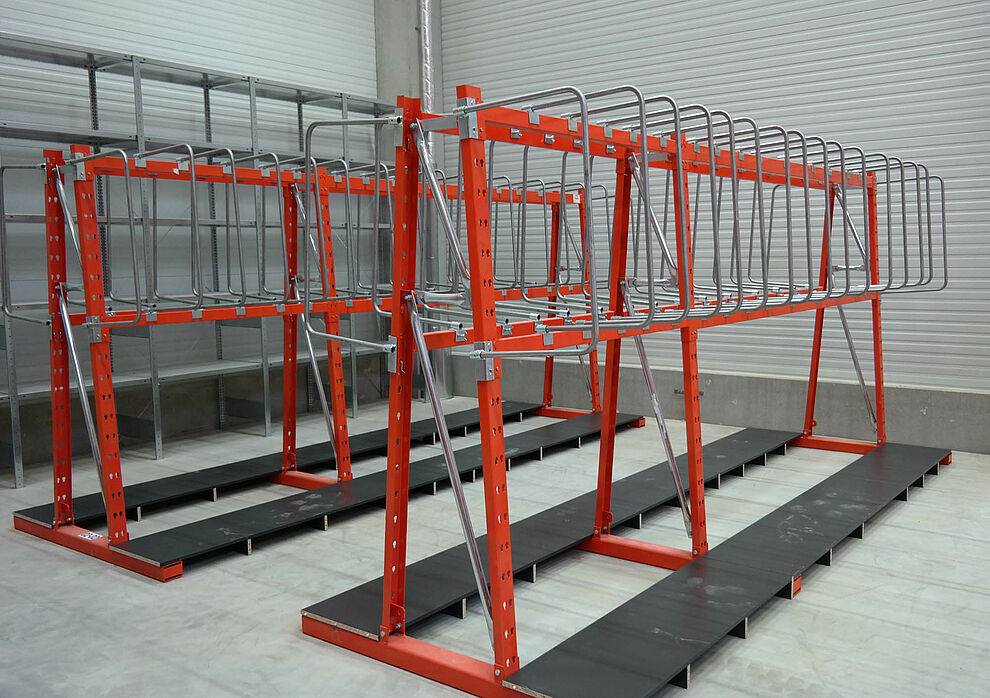 Vertical racking solutions
If you need vertical storage for long goods such as sections, tubes, rods or strips, an OHRA vertical rack is the only choice. We design and build racking systems suitable for various applications across multiple industries where different types of long goods, particularly strips or tube sections, must be stored vertically.
OHRA vertical racks – optimum vertical storage
We can design vertical racks for use directly in the workplace or for showrooms, and with different customer-friendly designs, colours and dimensions. Our vertical racks come in three standard heights of 2,100mm, 2,700mm and 3,300mm. Their robust design - featuring steel-structured traverse beams - are suitable for bearing heavy loads and are not prone to tilting.
Depending on your requirements, our vertical racks can be delivered either as single-sided or double-sided. The usable depths are 450mm, 650mm and 850mm, and standard bay widths are 1,500mm or 2,000mm. Other dimensions are available on request.
OHRA vertical racking advantages
Ideal for storing and displaying of long goods, such as tubes, strips, sections or rods
Full product overview, compact storage, fast and easy access
Racks can be subdivided by separating brackets or optional separating arms for fast and direct acces to the product
Customer-friendly sales presentation
Delivery includes fixing materials. foot and side cover panels, as well as anchorage options
---
Chipboard sheet racking
Our sturdy vertical chipboard racking system guarantees high bearing loads and fast handling in the workshop. It is suitable for storing chipboard sheets and material in various qualities and dimensions.
OHRA chipboard sheet racking options
Our chipboard rack is available in 3 different depths: 2,500mm, 4,000mm and 5,000mm, the clear bay height is 2,200 mm and the clear bay width is 400mm. All conventional chipboard panel sizes can be vertically stored in the rack. Our chipboard sheet racks can be ordered as a modular system (featuring base and either 2 or 3 bays as attachment elements). The top side of the chipboard sheet rack can also be covered with a chipboard plate for use as an additional storage area with a surface load of up to 380kg/m².
OHRA chipboard sheet racking advantages
Cost-effective storage solution
Modular design for quick assembly
Subdivision in base and attachment fields offers a large number of bay widths
Top rack level can be used as storage area (using accessories)
Roller conveyors in front of every bay for easy storage and removal
High-quality powder coat surface finish
Optionally extendable