Industry-specific storage systems
Sceneries provide a particular attraction not only on the world's biggest stages. They also demand a complex production and they must be stored for further performances. As the scenery elements are often big and unwieldy, the storage of sceneries is a difficult and demanding task. As a leading manufacturer of storage and racking solutions for museums and heritage, we offer various customized storage solutions for every type of storage facility.
A particularly economic solution for this kind of storage is the application of mobile Cantilever racking systems to provide an endless storage facility. By using arm connectors, the Cantilever racking will be transformed to a uniform storage level with no disturbing columns and with usable storage depths of up to 2.5 metres. The length of the racking system is variable at will. Depending of the warehouse height, you can achieve 5-6 storage levels.
---
Mobile racking
The racks are mounted on sturdy, torsion-free carriages. If required, only the desired aisle will be opened. Compared to common stationary racks, this mobile storage method results in a storage capacity increase of up to 85%. The Zurich Opera (Switzerland) and the State Theatre in Suttgart (Germany) are already using this kind of storage solution. The cantilever racks are fixed on mobile carriages which can be moved towards the following racking row up to a few centimetres to each other. This means that a substantial quantity of goods can be stored on confined space.
By simply pushing a button, the mobile racking opens exactly only the aisle where you wish to store or remove the scenery items. A special task is e.g. the laying of the rails or the sprinkler system (on the mobile racking) as well as the handling's overall management concept with a 4-way forklift truck and the partly essential special product carriers.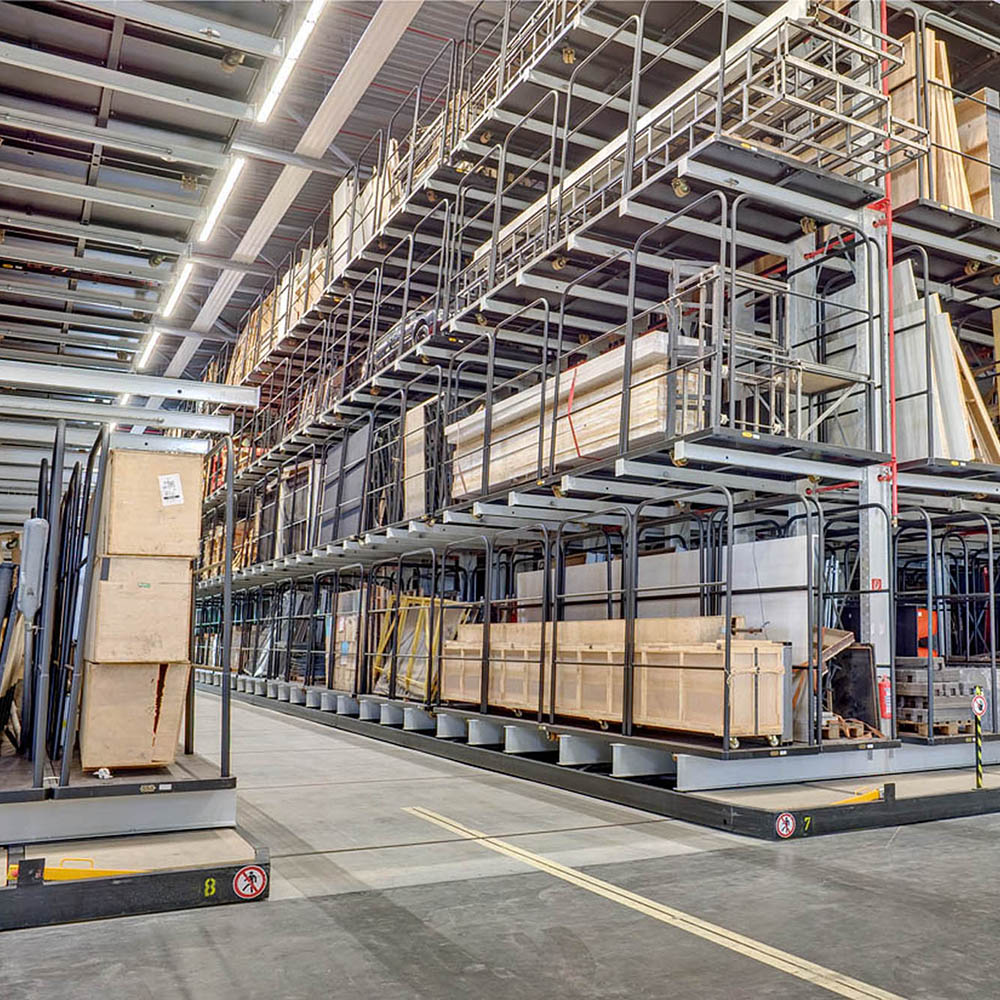 ---
Mezzanine floors
The installation of robust mezzanine floors allows the storage on several floors. Consequently, stage props like furniture, lamps or scenery sets and costumes can be stored in a space-saving and clear visible manner
---
Pallet racking
In addition to mezzanine floors, sturdy wide-span and pallet racks prove to be an ideal storage solution for various stage props and many equipment elements. While the wide-span racks are suitable for bulky voluminous objects with low weights, the pallet racks with compartment widths of more than 4,000 mm are more suitable as a storage system for heavy art objects or packaging boxes. An individual and fast pre-packaging for various theatre performances is guaranteed due to a stock-keeping with this kind of access mode.
---
Vertical storage
To manufacture and repair scenery items, many materials with different dimensions and weights are often required. The sturdy vertical racking guarantees a high load bearing capacity – especially for the storage of heavy, bulky objects – as well as a fast handling in the workshop.