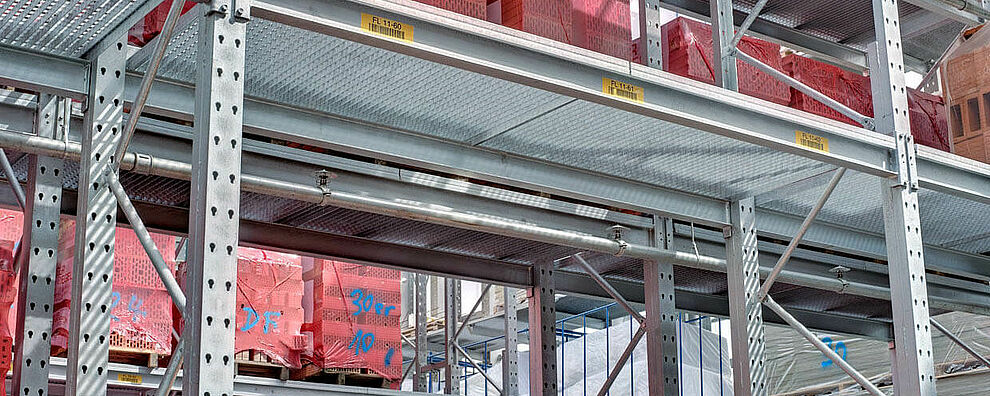 Tailor made pallet racking
Our pallet racking systems are the most popular storage systems across a comprehensive range of industries and sectors - such as haulage and transport companies, the building material trade, dispatching warehouses or as a single storage system for heavy goods.
OHRA pallet racking – many applications
Made in Germany, our racks are quick and easy to assemble and can be optionally extended at any time. We use hot-rolled high-quality steel sections for high load capacities and safe handling. Our hot-dip galvanised pallet racks are ideal for outdoor storage, and for light and medium loads our cold-rolled P5 pallet racking system uses optimised steel sheets with IPG profile beams. All our pallet racking systems can be supplied either with or without roof.
OHRA pallet racking advantages
Customised to your warehouse configuration
Easy and fast assembly
Superior safety tolerances
Accessories for individual racking configurations
Outdoor systems (including galvanised roof and/or walls) available.
25-year rust-through warranty for hot-dipped galvanised finish
Also suitable for accomodating other storage aids such as pallet cages or heavy tools
---
Heavy duty P3 pallet racking
Our P3 pallet racking system is ideal for heavy and bulky loads such as raw materials, semi-finished products and other pallet-stored products, and heights can be adjusted to suit any available space.
Cold-rolled steel pallet racks are prone to kinks or bending, compromising their load-bearing capacity. So we use hot-rolled steel for our frames and beams to ensure superior stability even under heavy loads. Our pallet racks can withstand bay loads of more than 31,500kgs and beam loads of more than 6,000kg. Beam levels have a 100mm pitch and can be moved without using tools. Indoor and outdoor (with roof and walls) options available.
OHRA hot-rolled steel pallet racking advantages
Individually configured pallet racking
Handles bay loads up to 32,500kg
Handles beam loads up to 6,000kg
Easy to assemble and extend
Outdoor systems (including hot-dip galvanised roof and/or walls) available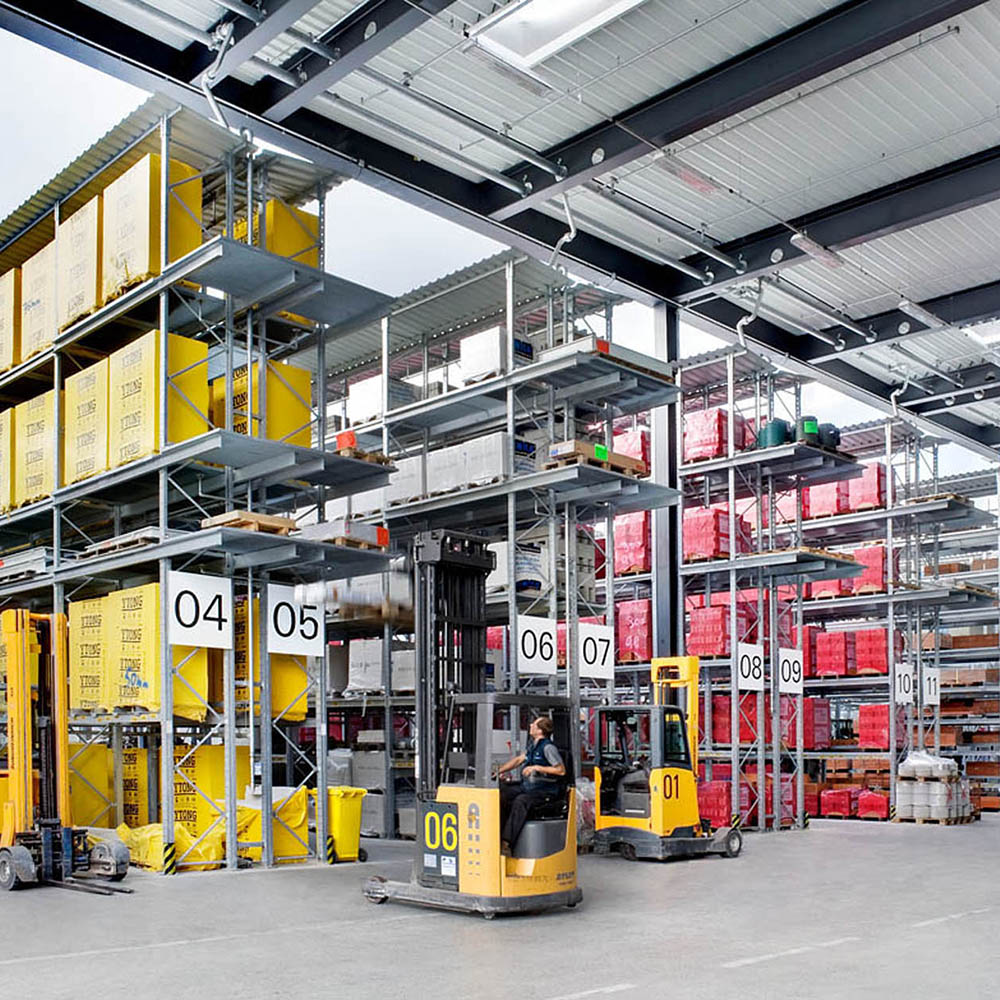 ---
Medium and light duty P5 pallet racking
Our P5 range of pallet racks is the most cost-effective option for beam loads of less than 3,000kg. Our rack uprights use optimised steel sheets and matching beams that give you flexibility at a reasonable price, without compromising on safety requirements.
High-quality racking for lighter loads
Our standard rack structures are screw-fixed, but we can provide welded rack structures on request. Beams are made of IPG sections and connected to uprights by hanging brackets. Our racks have a 50mm pitch, and beams can be adjusted without using tools. Uprights are supplied galvanised, and beams are painted in RAL 7035 (light grey).
OHRA P5 pallet racking advantages
Low cost pallet storage solution
Handles bay loads up to 18,000kg
Handles beam loads up to 3,000kg
Quick assembly, easy to extend
High-quality powder coating surface finish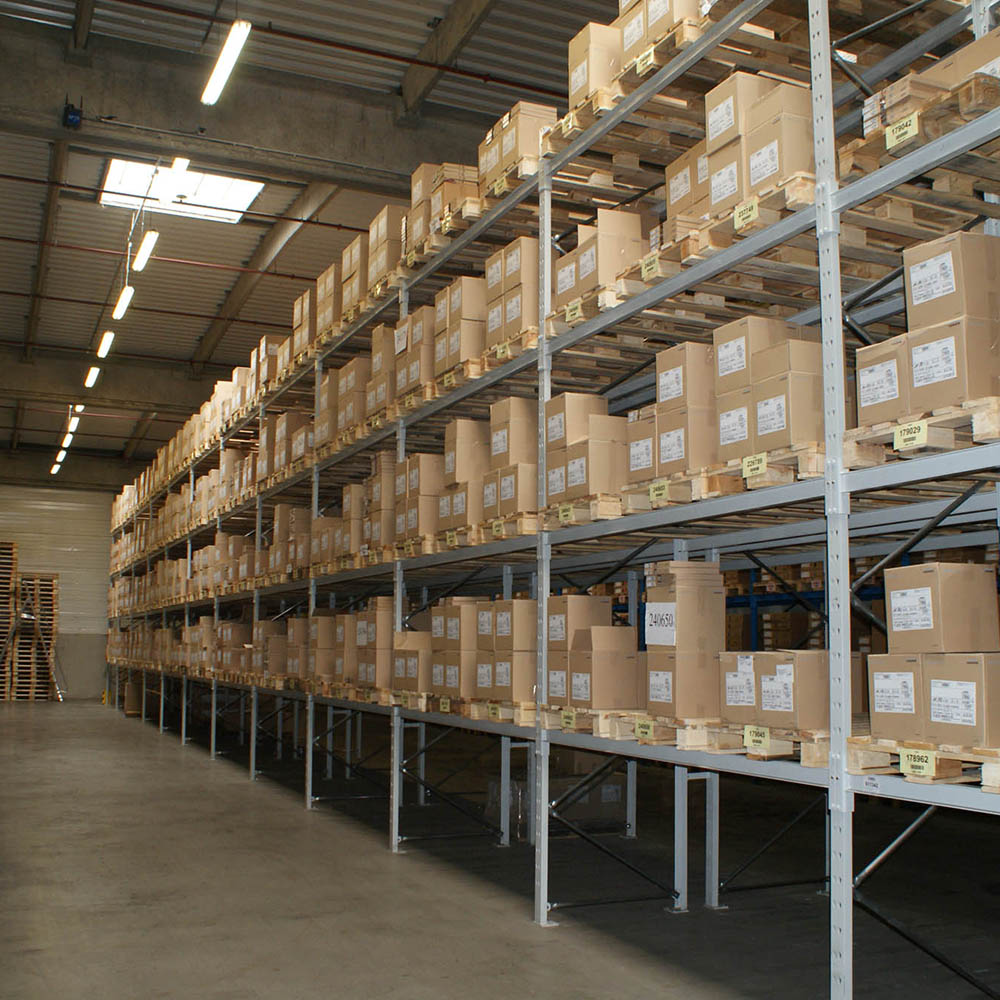 ---
Roofed pallet racking
Roofed pallet racks are the ideal solution for weather-resistant goods that can be stored outdoors. Our roofed pallet racks are popular with garden centres, builders merchants and businesses where finished concrete parts, bagged goods on pallets or timber elements are stored in outdoor areas.
We offer multiple roof options - including trapezoidal sheets or light panels - as well as different wall designs that protect your goods from all weather conditions.
OHRA roofed pallet racking advantages
Low cost and highly durable
Available in hot-dip galvanised or powder-coated finishes
High bearing loads considering the weather effects
Uses the entire outdoor area, saving valuable inside space
Different roof designs available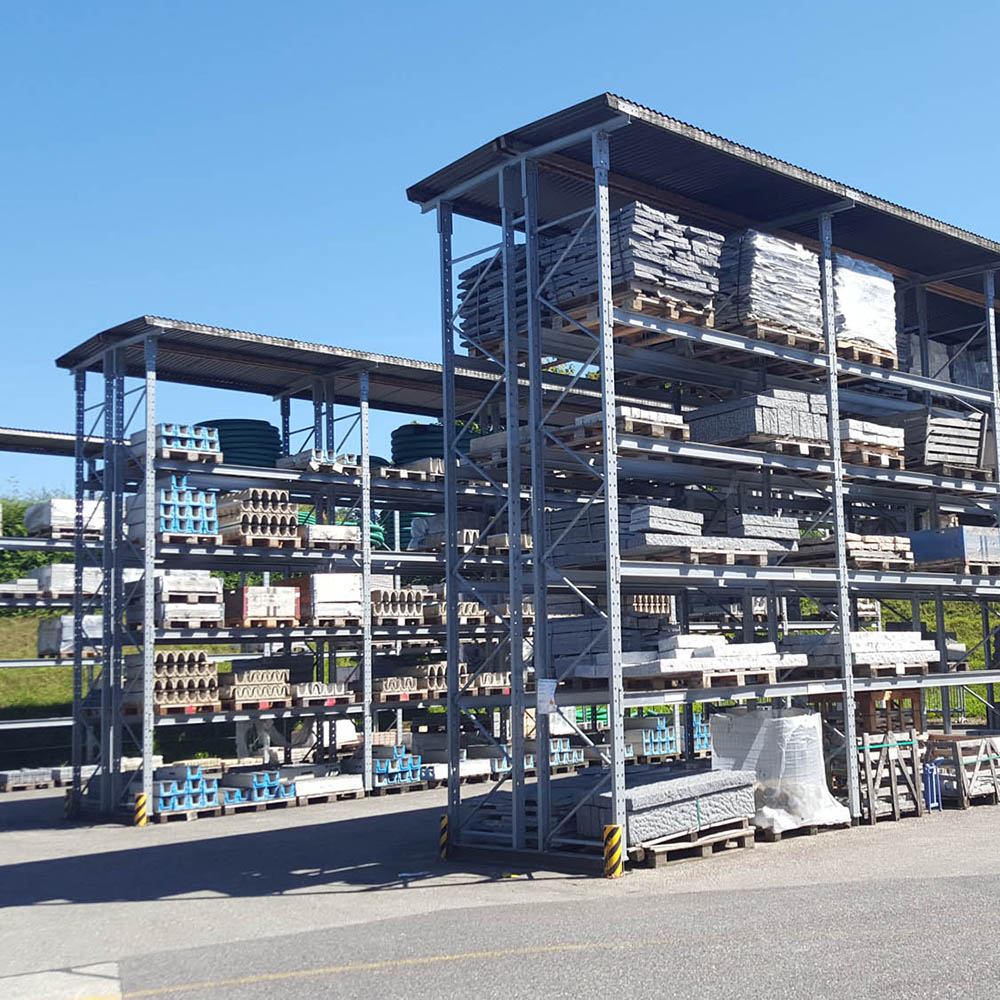 ---
Dynamic racking systems
Our movable pallet racks are ideal for pallet goods that require compact storage with a low footprint. We install the pallet racks on torsion-resistant trolleys, and the complete rack is moved as a single unit. The system can be operated electronically or manually and can be switched to 'night position' outside of operating hours - preventing theft and ensuring aisles cannot be accessed by forklift.
OHRA mobile pallet racking advantages
Highly compact trolley racking system stores large loads with a small footprint
Movable racks ensure quiet movement and are pushed together without gaps.
Rack block 'night position' protects valuable goods from theft
Can be installed in new or existing spaces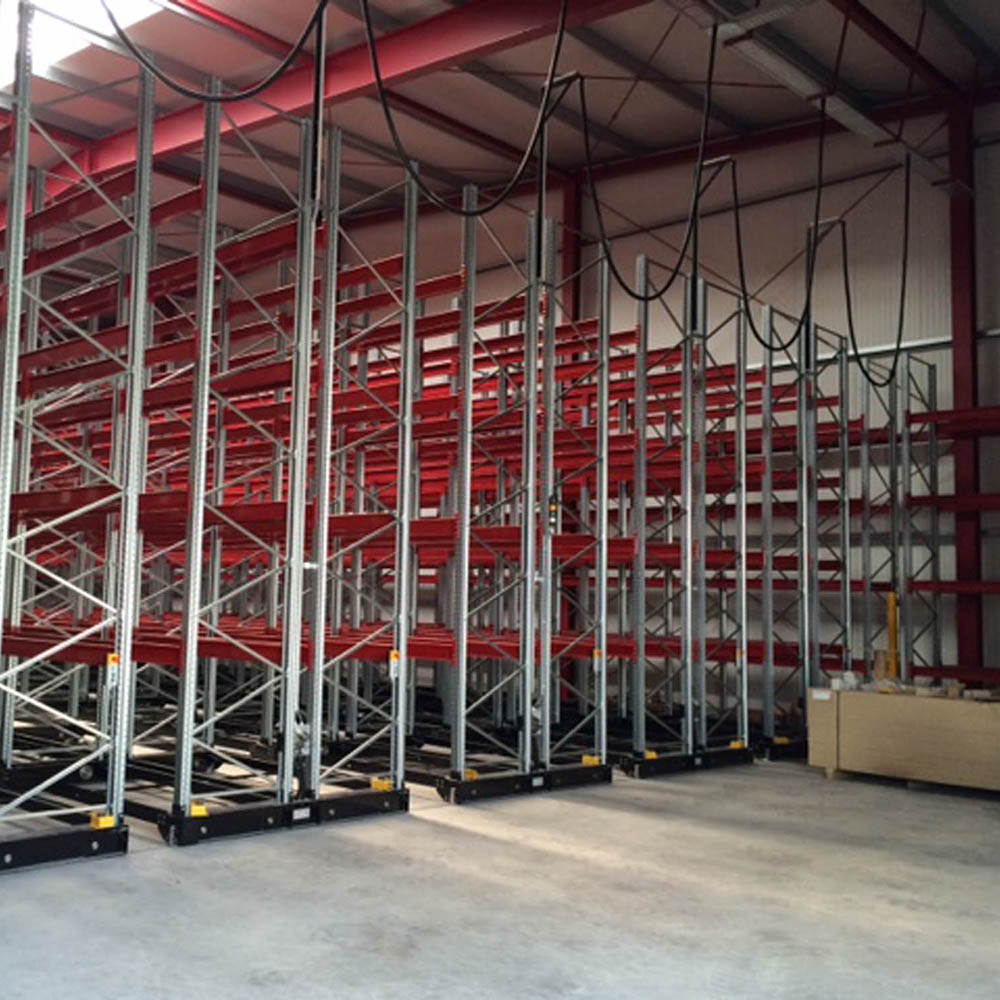 ---
Pallet rack mezzanine floors
Thanks to the strength of our hot-rolled steel sections, we can design and construct a mezzanine substructure of pallet rack storage levels that ensures every inch of available warehouse space is used. We connect individual runs of pallet racking with steel sections covered with flooring (metal sheets or chipboard panels) that creates a structural supporting area between the racks.
Mezzanine floor pallet racking advantages
Maximises available space and explores the full height of your buildingspace utilisation by exploiting the entire height of the building
Closer proximity of storage and order-picking zones
Cuts transit time due to full integration of the storage area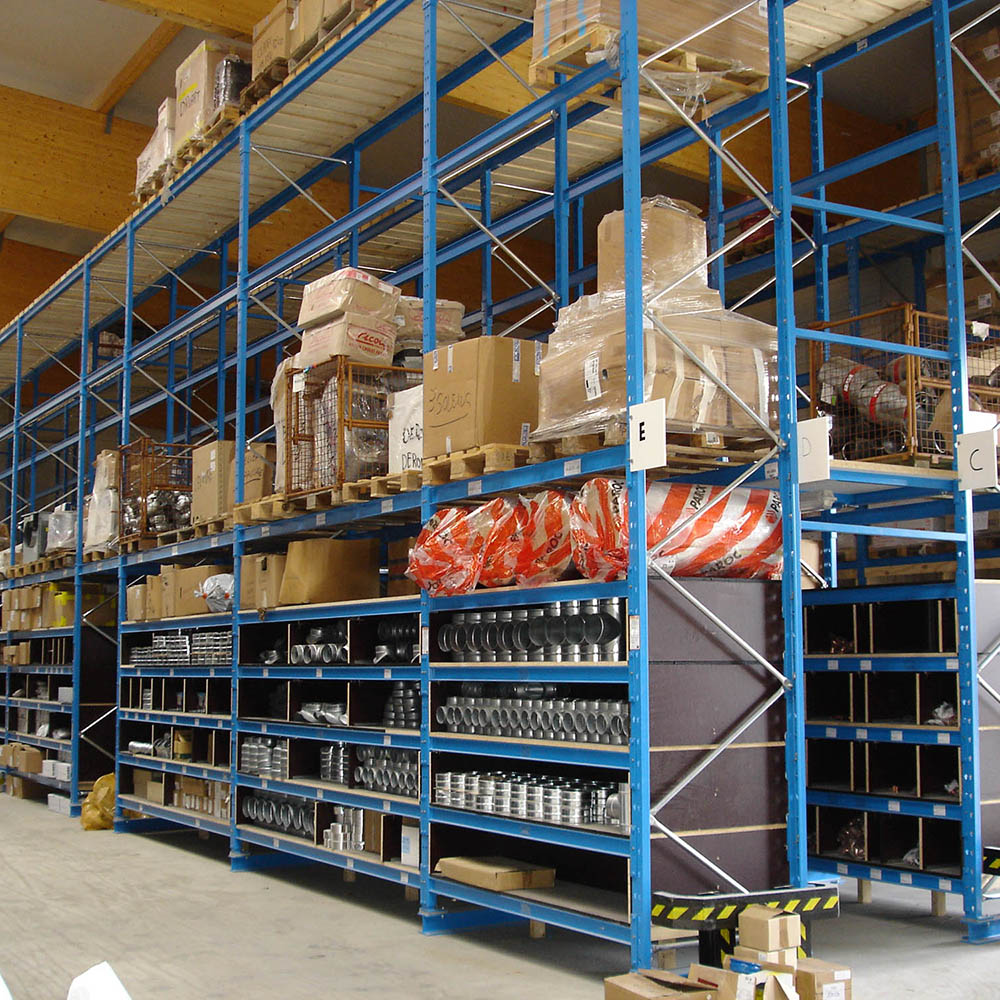 ---
Drive-in racks
Our drive-in racks give you the best of both worlds by increasing the height of block storage and making the most of any compact storage space. They are perfect for storing large quantities of products as well as pressure-sensitive goods that cannot be stacked. Storage is performed according to the last-in-first-out (LIFO principle).
OHRA drive-in rack advantages
The ideal space-saving storage solution as it compacts necessary warehouse space
Shuttle units installed have extreme load-bearing capacities and sliding properties
Can deliver cost savings from the compact storage of pallets
Make it easy to store sensitive goods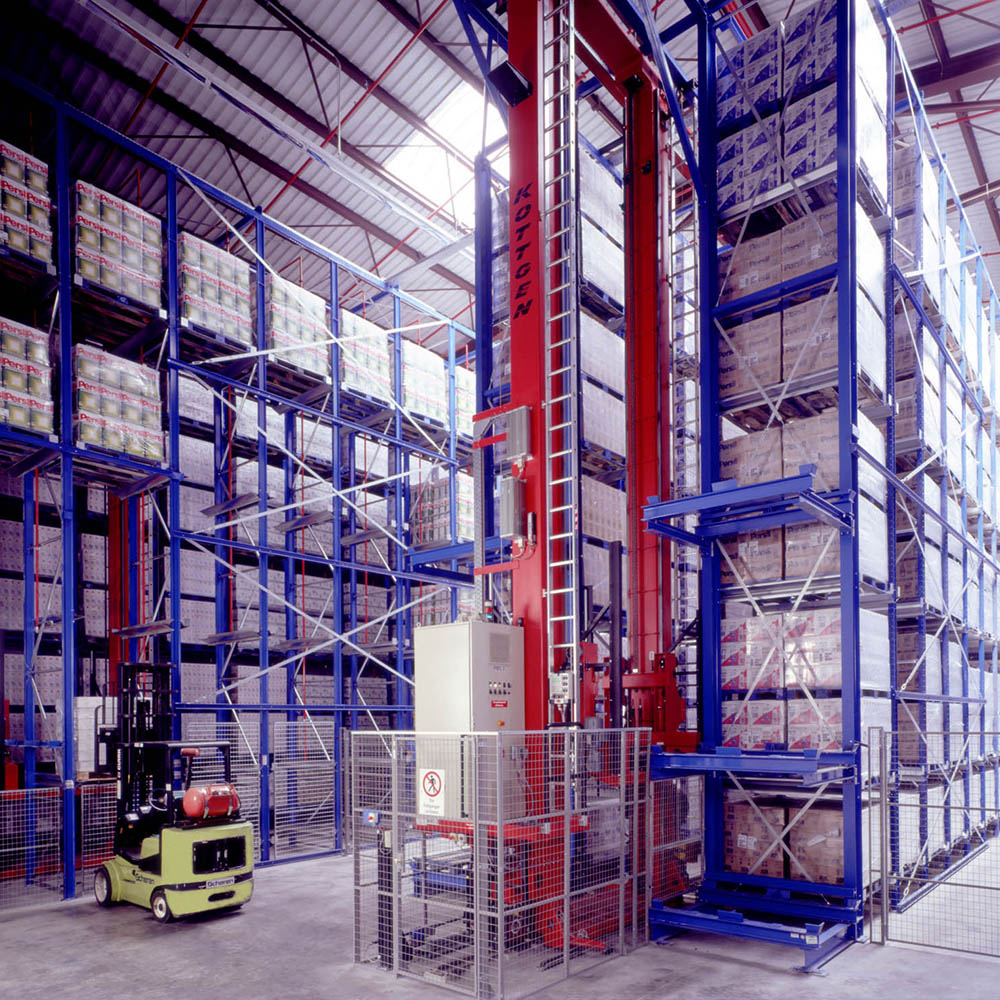 ---
Technical details
Key features for frame uprights and horizontal beams:
Heavy duty hot-rolled channel section uprights.
Heavy duty hot-rolled "I" beam sections.
Unique high impact resistant uprights for tough environments.
Standard pitch of 100mm, 50mm pitch option also available.
All racking systems manufactured to DIN 18800-7, EUROCODE, and FEM 10.2.02.
Certified welding to DIN EN 287, DIN EN 729, and DIN EN ISO 13920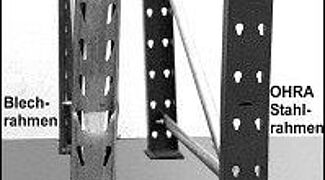 Pallet rack accessories
You can order a range of accessories to extend your OHRA pallet racking configuration according to your needs and industry requirements. These include collision guards, upright-raising units for safety in the rack aisle, load distributors and push-through protectors/spacers, and many more. These accessories can be supplied separately or delivered with your pallet racking order.